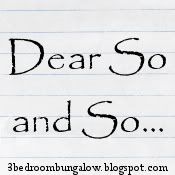 After a break for Christmas, it's that time of the week again where I get to have a good old moan. Pop over to
Kat's blog
to see the other moaners.
~~~~o0o~~~~
Dear Snow,
Enough already! You get me?
yours,
person with frozen toes.
Dear 2011,
you're doing well so far, let's keep it that way, eh? Deal?
yours,
a hopeful notSupermum
Dear Eastenders,
First of all I don't watch your show, far too depressing even with all those chirpy Cockernees in it, however it's difficult to avoid all the hoohaa in the meeja this week. From my point of view your baby death/swap storyline has crossed the line as far as taste is concerned. Is that supposed to be entertaining in some way? The cot death could have been dealt with sympathetically and may have even helped some people in some way, but the swap took it to another distasteful level.
yours,
A Corrie Fan.
Dear Teenager,
If you don't tidy your hideously disgusting bedroom this weekend I will post a photo of it on this blog. And Facebook. And Twitter. And your school notice board.
You listening?
your fed-up Mum
Dear Colin Firth,
Phwoaaaar!
yours,
an admirer.