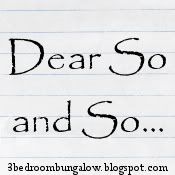 Dear Mr Surveyor,
You came to my house recently and did a survey for my buyers. The damning report you produced does not resemble my house in any way shape or form. You clearly had a checklist called Things That Might Go Wrong in a 1930s House, and included everything on that list. Not only that but you've made my buyers wary of continuing with the purchase. Thanks for that, you moron. Oh, and I'm going to send you an invoice for the coffee I made for you.
Yours,
one very pissed off house-seller.
--------000-------
Dear Mr Builder,
Following your visit to my house out today to check over the surveyors concerns, I want to thank you for being so reasonable and straightforward and for pointing out two moderate issues that are easily remedied. Your comment that "I thought your house was going to be a wreck when I read this report" confirms my thoughts about the idiotic surveyor. Please make sure you also tell my buyers what you said as you were leaving: "This is a really solid house this, I'd live here".
Yours,
a slightly relieved house-seller
------000-----
Dear Mr and Mrs Buyer,
Please still buy my house. Pretty please. Thank you.
Yours,
a hopeful house-seller.
------000-----