I watch a fair bit of TV, and autumn is traditionally the season when new dramas are rolled out. I love a good drama series - Broadchurch, The Killing, The Bridge, Top of the Lake - I loved all of those, and these recommendations are in the same vein.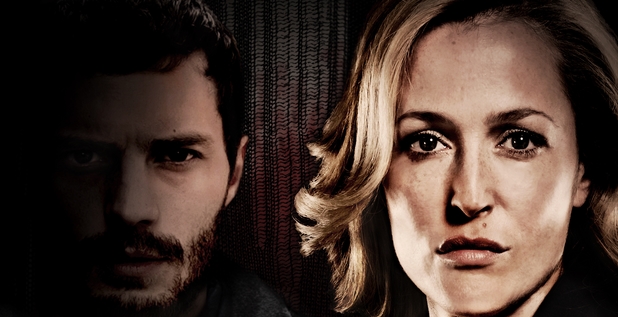 The Fall
is a psychological thriller which was broadcast earlier this year on the BBC, and although I missed it first time around I'm watching the repeat on BBC2 at the moment (I believe it's also available on Netflix).
On paper, it's a fairly predictable story - serial killer targets single women - but it is brilliantly done. Tense, dark and quite scary in parts, it is a top notch drama that's won a bucket-load of awards and rightly so. It's quite challenging to watch due to its subject matter and quite graphic and brutal images in places, but my goodness it's well written and creatively directed.
It stars Gillian Anderson who is mesmerising as DCI Stella Gibson, the head of the police investigation team, and Jamie Dornan as the serial killer, as well as an excellent ensemble cast including the very underrated Irish actor John Lynch (who I've fancied for
years)
it's definitely worth watching before the second series airs in November. So, so good.
Happy Valley
is another excellent BBC drama and was aired earlier this year. Set in Yorkshire and starring Sarah Lancashire as police sergeant Catherine Cawood, and rising star James Norton as psychopath Tommy, it centres on a staged kidnapping that goes badly wrong with terrible and far-reaching repercussions. It's fairly brutal in parts, and not suitable for children, but I can't recommend it highly enough. Stunningly good.
Anyone old enough to remember Cagney and Lacey? Well, Scott and Bailey is the modern-day, Manchester based equivalent of it, and bloody good it is too. The series was created in 2011 by Sally Wainwright, who coincidentally also wrote and produced Happy Valley, and is currently in its fourth series. It is a very realistic police drama, and the lead characters, played by Suranne Jones and Lesley Sharp, are portrayed as imperfect women (is their any other type?) one mouthy and impulsive, the other steady and methodical, who are good at their jobs but not so great in their personal lives. It's a gritty, intelligent drama with terrific female leads and is extremely watchable, I love this programme and will be sad to see this series' final episode this week. Catch it on ITV iPlayer.
What are you watching on TV, and what would you recommend?